A Sixty-Something Persian Guy Peed On Me And All I Got Was $20
I had an all-time first in my stripping career happen recently: a customer urinated on me. The manager missed it because he was in the hospital with a brown recluse bite.* When I told him that a guy peed on me during a dance, he stopped writing with the hand that wasn't in a sling. He looked like he hadn't slept all night before coming straight to the club from the ER. "He like, whipped his dick out and shit?!" He waited, slack-jawed with shock and anticipation, but also in a lots of painkillers kind of way. I had to clarify that no, the creep did it from inside his pants.
"So he didn't really pee on you. He just wet his pants." I could tell that he was disappointed, even in his medicated state. He wasn't grasping the severity of the situation. I made the case that the perp intentionally wet his pants on (under) me.
I hadn't realized that anything out of the ordinary was happening until I stood up and the air hit the man's urine, giving me a wet sensation and letting me know that the whole back and inside of my upper thigh was covered in something.
An inventory of what fluids the body produces flashed before me. Immediately I thought that it was blood or some other kind of vaginal fluid because I was about to start my period. He was wearing black pants and I couldn't see much of anything in the dark. I felt it and examined at the residue on my fingers. There was too much of it and it seemed too thin, too clear. My embarrassment turned to suspicion and I decided it came from his body and not mine. Could it be semen? But again, it was so watery and there was so much of it. I knew that the only way I would start getting some answers was if I raised my hand to my nose.
It was an unmistakable, unquestionable smell. It's something that cannot be synthesized; it was a city street, it was missed urinals. It was piss so foul that it can only excreted by the human male.
"Um, your pants are wet." I felt like I was bluffing.
"Oh, it's okay. I spilled a beer earlier. It's okay." Something about the way that he was reassuring me felt wrong.
"I think this dance is over."
I left him on the couch as I ran off in search of running water, first to the bathroom upstairs that only had one-ply toilet paper that melted when it touched water, and then to the bathroom downstairs with a roll of paper towels. Giving him the benefit of the doubt, I was mad that I was being forced to look over the incontinent. These old guys really need to get their priorities in order.
I was in a state of denial when I opened the door at the top of the stairs to find two girls talking and pointing at the couch. There was a circular wet spot with a sizeable diameter. Staring into the spot, I just knew that he did it on purpose. I announced that yes, that was what they thought it was, which was something I was sure of because I had given the guy whose bladder it came out of a dance and made a point of smelling it. They stared at me with pity and shock and then I could hear them wondering if I still had pee on me. I wanted to assure them that it was all good because I took a sponge bath. I felt embarrassed for even claiming credit, as if this was my usual side hustle.
Where was he?! I was filled with rage and paced around the club, looking everywhere, but he was long gone. I vented to the pregnant cocktail waitress about it, I guess because she was the next person I saw and she had always seemed sympathetic to other strippers' plights and always got me water. I showed her the spot as evidence and she said that she would get the cook to clean it.
"You could take a shower," she volunteered. Why hadn't I thought of that?
Maybe it was because I was scared of the shower. It was usually covered in flies. I didn't think that it was even functional (It was missing a door!) until I stopped by the club one time during the day in order to get something from my locker. A girl walked into the dressing room in a towel, looking like she got out of a shower. That's kinda weird, I thought. Then another girl in a towel grabbed a razor and some bath products and walked in the direction of the bathroom. Holy shit, the day girls actually use that shower??
The cook was headed towards the couch when I intercepted him by hysterically trying to yell over the music about towels. I was making bar towel hand gestures. I just assumed that he had been informed that I was the victim of this heinous crime. He apologized that there weren't that many bar rags and that he couldn't help me.
I had only interacted with him once before when I was forced to order bar food one Sunday night because all the places to eat downtown were closed. He cooked me a sad grilled cheese that was black on one side and soggy and uncooked on the other. He faced the charcoaled side down and I was mad that I tipped him before I got a closer look at the mess he tried to pass off as a sandwich. I blurted out that I was the one who had been peed on and needed towels or bar rags because I needed to take a shower.
"Oh God, that was you? Yeah sure, I'll get you some bar rags. Where is it, anyway?"
I pointed to a man lying back on the couch centered over the spot, concealing it completely with his body. The tweaker girl was taking her shoes off in preparation to give him a dance. She was wearing a furry vest and a beanie. Earlier in the night, I found myself staring at her and pondering how we were in the same room but dressed for totally different climates. I'm not sure if meth is actually her drug of choice, but she has the aesthetic of an extra on Breaking Bad. One time the manager locked himself out of his office and had to convince her to squeeze through a gap between the dressing room and office wall. The cook discreetly motioned her over, so as not to alert the patron that he was lounging in another man's urine.
"I GUESS YOU HAVE TO MOVE BECAUSE SOMEBODY PEED RIGHT THERE AND HE NEEDS TO CLEAN IT." Apparently she thought honesty was policy in this situation.
My name was blaring overhead. "Kat on the main stage. That's right, here's the sexy Kat, making her way to the staaaage!" The cook promised me he would leave some bar rags on the back of the toilet in the bathroom for me. I felt like hugging him. I did my stage set, trying my best to be sexy while also not touching any part of my body to any other part of my body. I imagined glowing hand prints under a special forensics lamp.
En route to the shower, I passed the tweaker girl dancing for her oblivious customer. They had their pick of all the best private dance area real estate and still decided to go with the stranger's urine. Not only had the revelation that he was sitting in a puddle of piss not deterred the guy from getting dances, but he decided that a strip club cook wiping down the area was good enough for him. There's no way it could even be dry yet. All that could have happened was that some cleaning solution was mixed in and wiped around. The guy looked delighted to be soaking up the company of a crazy-looking stripper in a beanie and also some dude's byproducts. Show's what I know, I thought to myself. None of my customers like me that much.
I actually didn't see any fly ecosystems when I took my long, hot, handsoap shower. I felt like a new woman, and was giving myself a mental pep talk as I touched up my makeup. I was going to salvage what was left of the night and not let that mean pervert win, damnit. A friend came in and I told her what happened.
"Which guy was it?!" I told her that he was wearing a striped shirt, short, bald, sixties, and had a beer belly.
"Was he really round?"
"Yes!"
"Was he Persian?"
I had completely forgotten that he had an accent. "Yes!"
"Ali did that?!"
"Do you know him?!"
"No! I just met him tonight but I'm really good with names." That's right, everyone had tried him. He looked like he would spend money. I watched every stripper in the room approach him and get turned away. I only asked him for a dance because I was trying not be lazy, not because I thought he would say yes.
Wait a minute, I was the one that he chose to pee on? Did he see me across the room and say to himself, "That's the one"? What the fuck! What do I look like?! And why had I forgotten about his accent? The only time we talked, his rotten breath had caused me to start gagging. I turned my back to him and sat in his lap, facing away from his breath so that I could regain control of my body before I lost my dinner. I must have been at the exact same time that he was emptying his bladder.
* 1. This is what people always say when they have an abscess. 2. I had to explain to a coworker that a brown recluse is a spider and not another way of saying an "African American hermit."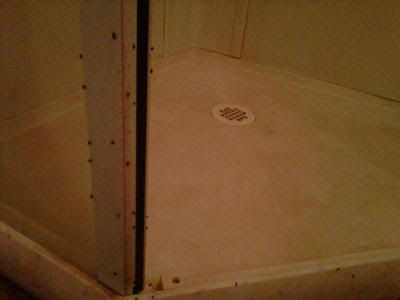 For more on urine in the strip club, see Pee Guy Part 1, The Golden Rule and Birthday: Benihana & Buttplug.